Products > GST - GREENER SURFACE TREATMENT
GST - GREENER SURFACE TREATMENT



As we know anti-corrosion protective coatings extend component service life. The bicycle especially is used outdoors in all conditions and is often neglected. Bicycle manufacturers being very aware of this are seeking better, greener and more viable ways of protecting it against corrosion.
New processes and developments in corrosion protection coatings must be commercially viable whilst at the same time being environmentally friendly. In accordance with new legislation, most of the world's major industrial manufacturers have announced their intention to limit or prohibit the use of hexavalent chromium in surface coatings.
GST - Greener Surface Treatment, is a unique range of corrosion protection coatings developed by us to meet the demand for corrosion resistant specifications of today's bicycle industry. As environmental issues continue to be a catalyst for change, we have consistently and continually engineered solutions that completely avoid or minimize pollution risks. Our GST is 100% free of hexavalent chrome compounds but still ensuring 2-10 times better corrosion protection than most existing coatings!
More and more light metals such as aluminum and magnesium are used in the bicycle industry for reducing bicycle weight. But light metals are easily damaged by contact corrosion reaction caused by the high differential of potentials between these light metals and denser metals such as steel, e.g. aluminum and stainless steel. For this reason the compatibility of any coating material to aluminum as well as magnesium has to be taken into account. In contact with light metals, GST coating exhibits a low differential of potentials and this slows down the galvanic corrosion of assembled components and therefore less corrosive loss of the light metals.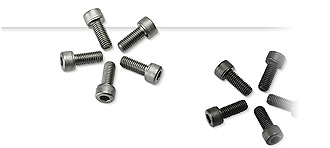 GST is also excellent for coating Cr-Mo (chrome molybdenum) steel components, greatly enhancing their ant-corrosion performance, Unlike electro plating methods with GST there is no fear of embrittlement or loss of torque integrity.
Our commitment to the industry we serve has been to develop and design systems and processes that improve the performance and extend the life of our customers' product. Furthermore we aim to provide products that are compatible with the environment in which they are used and safe for the customers who use them. With new and improved processes and alternative production methods, we are constantly striving for better environmental protection and product quality.